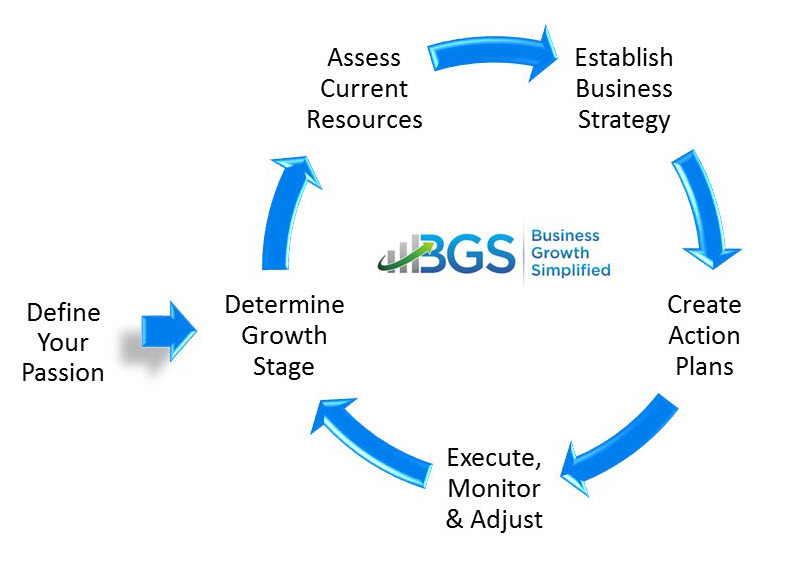 Want to Find Out More?
Sign up for one of our free introductory classes
to find our next free event & up.
Here's How Business Growth Simplified works:
If recent events have you wondering when your business will be back to normal, join Florida Business Incubator and get your business back on track to profitability and growth by applying our Business Growth Simplified Techniques.  
Business Growth Simplified teaches you how to find root-cause problems that lead to the symptomatic problems that haunt you daily! When you take operational action to fix root-cause problems your business grows, and you increase your profitability (better financial performance).
While most programs teach a financial approach to managing a business, that is only a partial solution. The problem of using a financial approach is it only addresses 1 of the 8 factors that drive business growth. Business Growth Simplified teaches you how to address all 8 growth factors.  By addressing more of the drivers of growth you accelerate your profitability and growth!
Over this 12-weeks program, explore the following topics delivered online in a virtual classroom format:
The 3 reasons businesses get stuck (set your financial target)
The difference between a business owner and entrepreneur (personal goal assessments)
Understanding how a business grows (business growth assessment)
Assessing the current chokepoints in your operation (revenue engine performance checkup)
Understanding your business model (applying the business model canvas)
Selling by the numbers: sales and marketing simplified (begin success planning worksheet)
Making predictive operational decision making (revenue engine decision tree)
Business planning simplified (high impact business plan template)
The power of using operational planning (90-day action plan template)
Business budgeting simplified (HIBP budget worksheet)
Systematically monitoring your operational plan (weekly production, sales, marketing agendas)
How to own your small business from afar (owner's monthly review agenda)
The Ideal Learning Environment
Using Our Proprietary Online Platform
Use our proprietary online platform to study outside the virtual classroom.

Collaborate with other entrepreneurs

and ask questions to your facilitator/business coach to get answers between classes.
Two (2) hours a week on Zoom
Links to the

resources

, canvases, self-assessments, articles, spreadsheets and e-books.

Self-paced roadmap

guide that leads you through the courses, tools, and assignments to apply what you are learning to your business
Individual coaching sessions along the way
The program includes 3 months of regularly facilitated peer group meetings. Use these to engage with others during implementing what you have learned to your business and see how others may be approaching their own application.  Submit the form below to reserve your seat today.
Structured Coursework for 12-Week Program
Class 1 – The 3 reasons businesses get stuck
This first class gives you an overview of what causes business owners to get stuck working in their business like a job instead of living their dream of independence and financial freedom. You'll get a better idea of how to begin shifting your mindset to head toward your dreams.
Begin looking at how your dreams influence your mindset and approach toward your business. Once you understand what you want from your life then you determine what your business needs to generate financially to live your dream by growing a self-sustaining business.
Class 2 – The Difference Between Owners and Entrepreneur when Growing a Business
With an understanding of what your want, we'll explore the the mind-shift necessary to begin building a self-sustaining business. This class introduces Step-2 of SPARC (Determine Growth Stage) and the concept of business growth as a defined process. You'll learn what's necessary to achieve each stage of business growth. Additionally, it offers our Business Growth Assessment (BGA) to assess you and your business current stage of growth.
Assignment: complete your Business Growth Assesses (BGA) and send your answers to facilitator to run your complete BGA Report. Outside class schedule a review with the facilitator to discuss your BGA results and prepare to discuss where you are with the class.
Class 3 – Assessing the Current Chokepoints in Your Operation
SPARC Step-3 (Assess Current Resources) begins in this class by providing an overview of the Tuning Your Revenue Engine (TYRE) management model and the benefits of applying it to your business. The Success Planning Worksheet is introduced so participants can begin getting familiar with the key performance metrics which predict your operation's condition.
Assignment: complete your Revenue Engine Performance Checkup (REPC) and send your answers to facilitator to run your REPC Executive Summary Report. Outside class schedule a review with the facilitator to discuss your REPC results and prepare to discuss where you are with the class.
Class 4 – Understanding Your Business Model
Your business model is the first major strategy decision you make about your business, yet most owner don't even know what business model they follow! Here you'll learn the business model canvas and begin evaluating how each piece influences your decision making and customers communication. You'll begin to see disconnects so we can begin fixing the holes and increase profitability to rapidly move toward success.
Assignment: To gather the data collected with the Business Accelerator Assessment tools apply them to the business canvas to find where holes exist and where you need to focus as we work through Tuning Your Revenue Engine.
Class 5 – Understanding the Importance of Calculating Maximum Capacity
This class deals with understanding what data is needed to calculate maximum capacity and understanding how this critical metrics impacts the overall business goal and each function's ability to contribute.  Additionally, participants will learn to evaluate their operational capacity to define the sales requirements for their business.
Assignment: To gather the data in your business and calculate your maximum capacity to pinpoint your current limiting business function and determine how much available current capacity is available in their business.
Class 6 – Selling by the Numbers: Sales and Marketing Simplified
In this business owners learn how to calculate and use their sales close percentage and other critical sales metrics to evaluate their sales function and begin creating a solid sales plan and accountability method for actively monitoring their weekly sales efforts.  Using concrete sales objectives you can now begin calculating marketing effectiveness and efficiency to evaluate current marketing efforts and if the plan needs to be changed to support the sales plan.
Assignment: To gather the data in your business and calculate your sales and marketing metrics to help you set objective and attainable sales objectives for your business and sales team to support your business plan. To gather the data in your business and calculate your marketing metrics to help you evaluate your current marketing and what's needed to support lead generation for the sales plan.
Class 7 – Making Predictive Operational Decisions
This class helps business owners understand how to use their Revenue Engine metrics to make more effective business decisions to improve cash flow and accelerate business growth.  The Revenue Engine Decision Tree is presented and
Assignment:  Review your metrics from the previous 3 weeks and use the Revenue Engine Decision Tree to determine the chokepoint in your business and you should focus your efforts over the next 90-days.  Outline you hunch so you can discuss it with the group and get feedback.
Class 8 – Business Planning Simplified
A business plan should be helpful, not hindering! Too many business planning tools build a big bulky plan which does little to help you organize your day-to-day operation to meet your annual business goal and objectives. High Impact Business Planning (HIBP) focuses everything into a 3-page plan with a 1-page budget. Quarterly action plans help you delegate responsibility to the right people and create accountability.
This week's class, and the next 2 classes, covers SPARC Step-4 (Establish Business Strategy) and SPARC Step-5 (Create Action Plans).  You start by revisiting your life's dream and how much money you need to live that life, as it's the starting point for building your vision and critical success factors for your business.  Then we'll look at how to translate this information into your business focus for the next 12-months to develop a high impact business plan.
Assignment:  Take your class exercises and build your high impact business plan for your business.  You can set an appointment with the facilitator to review your plan or wait until next week's action planning class to get an in-depth review of your plan for the rest of the year.
Class 9 – The Power of Operational Planning
Action planning is at the core of accomplishing your High Impact Business Plan (HIBP) and is what creates your operational plan. In this class you'll learn how to create quarterly 90-day action plans to move your goal forward and setting measurable objectives to measure accountability for team members working with you.
Assignment:  Take your HIBP goals and objectives and build your quarterly action plan for the next 90-days. Set an appointment with the facilitator to review your plan if you haven't already reviewed your plan with them.
Class 10 – Business Budgeting Simplified
Traditional budgeting can be complex and difficult to complete.  HIBP offers an alternative method to simplify the budgeting process.  This class will look at the 5 financial metrics every business owner should be evaluating each month to determine financial health and how these metrics are determined for their business.
Assignment:  Apply the HIBP budgeting to your business and compare the results to your current accounting.  Plan for the updates you need in your accounting to support growing a more profitable business.
Class 11 – Systematically Monitoring Your Operational Plan
This week's class teaches owners SPARC step 6 (Execute, Monitor & Adjust), how to manage their business day-to-day using HIBP and TYRE operation and financial metrics.  A standard system for regularly conducting meetings to review each business function and owner goal helps you implement greater business-wide accountability.
Assignment:  Prepare a review for one aspect of your business and come to the next class prepared to conduct a review with the group.
Class 12 – Learning How to Own a Small Business
This class is meant to help the owner to understand when it's time to wear their "owner's hat" and what they should be looking for as an owner of the business.  An owner's review of the Matthew's Appliance will be conducted to demonstrate how the entire process is applied to a business to get the owner's desired results.
Assignment:  Schedule time to discuss your HIBP and action plan with the facilitator and what your best course of action might be going forward to get your desired outcome.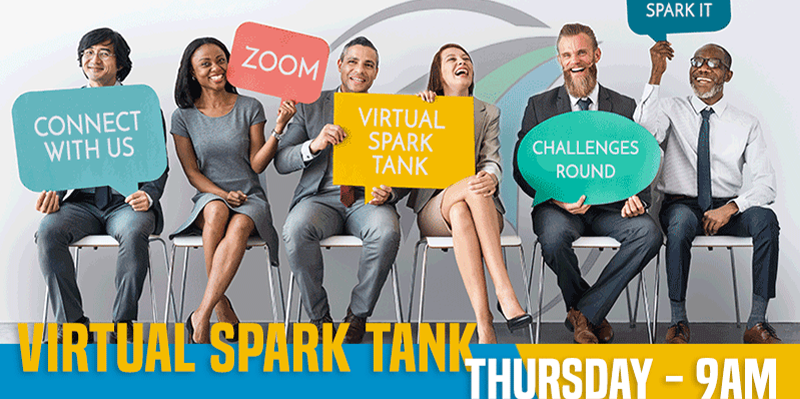 Your business "break-out" starts every Thursday with facilitated brainstorming sessions & Guest Speakers. Ignite new ideas, new perspectives, new revenue opportunities with individuals who are as passionate about their success as you! Free to attend. See our calendar for events.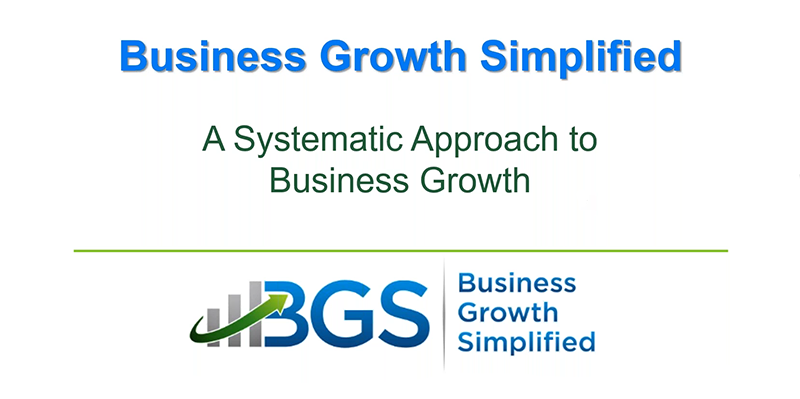 streamlines your path to sustainable growth. In powerful cohorts, BGS helps you better understand your revenue streams, productivity and profitability results to develop a solid foundation for greater sustainable success.

Looking for answers regarding Pinellas CARES? Have you applied for all you are eligible for? Buried under forms? Don't understand PPP Forgiveness? The City of Dunedin, the Chamber of Commerce are supporting our business community! 
Entrepreneur Round Table
formerly "SPARK Tanks"
Held twice a month, our Entrepreneur Round Tables are open sessions where entrepreneurs can learn from each other.
Present your business challenge or successes, and gain insights from fellow entrepreneurs and board members!
In-person: Every two weeks held at
Board Room of the Dunedin Chamber of Commerce. 301 Main St, Dunedin.
What is the ERT?
OLD SPARK Meetings